ISPP to be held in Asia for the first time!
Mark your diaries! The 11th International Symposium on Pediatric Pain (ISPP) will be held in Kuala Lumpur, Malaysia. This is the first time that the ISPP will be held in Asia, and it's a great opportunity for SIG members and others interested in pediatric pain to visit this part of the world. Do plan a holiday either before or after the conference.
The Local Organising Committee, led by co-chairs Dr Mary Cardosa, a pain specialist, and Dr Sushila Sivasubraniam, a pediatric anaesthesiologist, is working to ensure that the meeting is successful. Those of you who have attended previous ISPPs will know that the scientific content is always superb, and the local organisers are planning a great social program to complement the scientific program.
Dr Liesbet Goubert from Belgium has been appointed as the Scientific Program Committee (SPC) chair. The distinguished members of the SPC are listed here. The deadline for proposals for workshops / symposia will be 15th August 2016 – watch out for the call for submissions!
We hope to draw many participants from Asia and Oceania. So as you think about the workshop/symposia topics, do try to see if you can come up with topics relevant to developing countries, and if you have any contacts of people from Asia/Oceania who are doing good work in relevant areas related to paediatric pain, do approach them to ask if they are interested to join in and submit a proposal.
The Education Day, which will be held one day before the actual conference, will provide a refresher course including hands-on workshops and practical sessions to attract a larger local and international audience – again, do watch out for the announcements! And we welcome suggestions for refresher course topics as well as other practical workshops.
We look forward to hosting the 11th ISPP in Kuala Lumpur and hope to attract many delegates from all over the world to attend this exciting conference!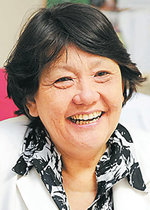 Dr Mary Cardosa
Organising Chairperson
ISPP 2017
Dr Sushila Sivasubramaniam
Organising Chairperson
ISPP 2017