Welcome from the Special Interest Group on Pain in Childhood
The International Association for the Study of Pain® is the world's leading organization for research, education, and advocacy related to pain. One of its oldest and most active subgroups is its Special Interest Group on Pain in Childhood, which was founded in 1988 at the 1st International Symposium on Pediatric Pain in Seattle, USA. Now, 29 years later in Kuala Lumpur, we are proud to sponsor and celebrate our 11th ISPP.
We will share in the benefits of carefully selected plenary lectures, workshops, and poster sessions, and just as important, the meals and social events which will bring us together across national and disciplinary boundaries. The conference venue is of outstanding quality, yet affordable for international visitors, and Malaysia offers many attractions.
Members of the IASP Special Interest Group on Pain in Childhood include basic scientists, physicians, nurses, psychologists, physiotherapists, pharmacists, and professionals and scholars from numerous other disciplines, all united by a shared passion for the understanding, prevention, and relief of pain in infants, children, and adolescents. If you are not already a member, please consider joining: see www.childpain.org.
Our objectives are:
to promote education about pain in children
to share relevant information about children's pain control
to advance our ability to alleviate children's pain from an international and interdisciplinary perspective
to encourage research, particularly multicenter studies, and studies which focus on unique problems of pediatrics, including newborns.
On behalf of the elected Council of the Special Interest Group on Pain in Childhood, I sincerely thank the conference organizers and the scientific programme committee.
We welcome delegates from every nation and every discipline to the 11th International Symposium on Pediatric Pain.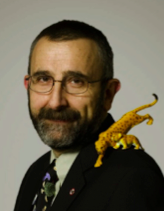 Carl L von Baeyer, PhD, President,
Special Interest Group on Pain in Childhood
International Association for the Study of Pain
www.childpain.org
www.iasp-pain.org